by Elizabeth Koke and Glynnis King
Activists, their stirring written passion and accounts, are also on our bookshelves. The Feminist Press surveyed its staff and searched through its resources and libraries to collect a top-five reading list from its own press and other small presses. From poster art to tips for girls, gays and activist communities, their short-list is filled with ideas and fervor for progressive and feminist activism.
edited by Mattilda Bernstein (AK Press)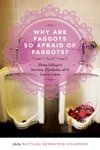 Assimilation is not a means to fight prejudice. In Why Are Faggots So Afraid of Faggots? Mattilda Bernstein Sycamore confronts the misguided and counterproductive adoption of hetero norms by members of the queer community. Sycamore challenges gays to reject the forces of corporate culture, consumerism and "the family," in favor of a progressive, subversive and radical queerness that embraces difference. Sycamore's call for activism within queer communities is a timely and much-needed work that is sure to inspire debate.
(South End Press)
Just because activist communities are progressive does not mean they are free of acts of prejudice, violence and inequality. The Revolution Starts at Home: Confronting Intimate Violence Within Activist Communities challenges the perception of activist communities as safe spaces free from the injustices of the wider world by exposing the reality of abuses committed by and against socially engaged individuals. This groundbreaking volume includes personal accounts of intimate violence, as well as suggestions for activists to create openness and dialogue on this all-too-often taboo subject.
(Feminist Press)

At every stage of education, sexual harassment is common, and often considered a rite of passage for young people. It's not unusual for a girl to hear "Hey, Shorty!" on a daily basis, as she walks down the hall or comes into the school yard, followed by a sexual innuendo, insult, come-on or assault. But when teenagers are asked whether they experience this in their own lives, most of them say it's not happening. Girls for Gender Equity, a nonprofit organization based in New York City, has developed a model for teens to teach one another about sexual harassment. How do you define it? How does it affect your self-esteem? What do you do in response? Why is it so normalized in schools, and how can we as a society begin to address these causes? Geared toward students, parents, teachers, policy makers and activists, this book is an excellent model for building awareness and creating change in any community.
(Feminist Press)

The best way to learn history is to visualize it. Since 1998, Josh MacPhee has commissioned and produced over 100 posters by over 80 artists that pay tribute to revolution, racial justice, women's rights, queer liberation, labor struggles, and creative activism and organizing. Celebrate People's History presents these essential moments — acts of resistance and great events in an often hidden history of human and civil rights struggles — as a visual tour through decades and across continents, from the perspective of some of the most interesting and socially engaged artists working today. They include Cristy Road, Swoon, Nicole Schulman, Christopher Cardinale, Sabrina Jones, Eric Drooker, Klutch, Carrie Moyer, Laura Whitehorn, Dan Berger, Ricardo Levins Morales, Chris Stain and more.
(Farrar, Straus, and Giroux)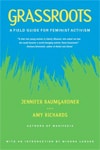 Being an activist isn't about doing what's hard, it's about doing what's right. Jennifer Baumgartner and Amy Richards provide feminists with helpful, highly accessible advice to enact change in their lives and communities. As the authors state, "You don't have to take the world on your shoulders – you just need to take advantage of the opportunities your life provides for creating social justice." Featuring inspirational stories of women making a difference through acts grounded in their own talents and interests, including ethical business ventures, developing tolerance through art and organizing communities to fight injustice, Grassroots proves that "activism should be of you, not outside of you."
---
Elizabeth Koke is a writer, organizer and publicist who lives in New York City and works for The Feminist Press at CUNY. Glynnis King is a recent graduate of Mount Holyoke college and intern at The Feminist Press at CUNY. The Feminist Press, established in 1970, is an independent nonprofit literary publisher that promotes freedom of expression and social justice.
Also see: Letter to a Young Activist: Left to Learn from the '60s by Laura Whitehorn in this edition of On The Issues Magazine.
Also see: Food for The Soul: Poetry That Pierces Injustice by Sarah Browning in this edition of On The Issues Magazine.
Read the Cafe for new and updated stories.