by Tim Grainey
The United States women's national soccer team played to a television audience of 40 million in 1999, still the largest U.S. audience ever to watch a soccer game — men's or women's. The U.S. women defeated China in the Women's World Cup on penalty kicks after a scoreless 120 minutes. The team cemented itself into the public consciousness, helped in part by David Letterman's continual references to them as "Babe City," a commercial showing player Mia Hamm defeating Michael Jordan in several sports and Brandi Chastain shedding her shirt after she scored the deciding penalty kick.
Women's soccer in the U.S. has had many successes over the past dozen years, but two professional leagues have failed – the latest suspending operations early in 2012. A new limited playing opportunity in the U.S. is developing for this season, but post-collegiate players are still left in limbo.
How can women's soccer be both so popular and go so wrong?
The first-ever women's professional soccer league fed off the momentum of 1999. Discovery Channel CEO John Hendricks led a group of investors to start the Women's United Soccer Association (WUSA) in 2001. The league had eight franchises — in Atlanta, Boston, Cary, N.C., New York City (Long Island), Philadelphia, San Diego, San Jose and Washington D.C.
But after only three seasons, the league folded. High costs for player salaries, game-day events and stadium rental along with minuscule television ratings and underwhelming sponsorship revenues all contributed to its demise. The WUSA had spent over $100 million, offset by revenues of only $5.5 million. Long-time professional women's coach Jim Gabarra once commented on the WUSA's counterproductive salary structure, which averaged $45,000 a year at the start: "Teams kind of landed like an alien ship in their markets, and they didn't have grassroots support. From the players' point of view, the WUSA was a nice gig. They worked six or seven months and got paid for twelve. It didn't make economic sense."
The league's marketing was geared almost exclusively towards youth, highlighting the players as role models, particularly for adolescent girls. There are close to two million registered female players in the U.S. — most under 18 years of age — more than any other country in the world. At the collegiate levels, approximately 20,000 players suit up every season, more than any other female sport. While socially important, this niche market didn't drive sustainable gate receipts or sponsorship dollars.
Second Women's Pro League Starts Up
Six years later professional women's soccer returned. In the interim, WUSA veterans played in Europe, in amateur leagues at home, took coaching positions or simply gave up the game for other pursuits. The new league, Women's Professional Soccer (WPS), had more realistic goals, with salaries averaging $5,000 a month for six months. Women's Professional Soccer provided jobs to around 200 players each season. But because marketing dollars in general dried up, the league depended on the expansion franchise fee (over $1 million) from three teams to offset operating losses. The WPS teams, though attracting the best talent in North America and abroad, were not as stable as the earlier league: from 2009 through 2011 four teams folded and another was terminated.
Last summer another peak event on the national team stage took place as the U.S. made its first Women's World Cup final since 1999. At the tournament in Germany, the American's exciting attacking style of play mesmerized soccer fans, including a miracle comeback win against Brazil in the quarterfinals. Despite the time zone difference — the game aired in the morning in some parts of the U.S. — 14 million Americans viewed a thrilling final in which Japan defeated the U.S. on penalty kicks. Forwards Abby Wambach, Alex Morgan and goalkeeper Hope Solo became widely known (Solo later would become the first soccer player — male or female — to appear on ABC's Dancing With The Stars program.) Attendance for Women's Professional Soccer surged in the second half of the 2011 season with an overall average attendance for the year of 3.514 per game. Teams were reported to be losing $2-3 million per year.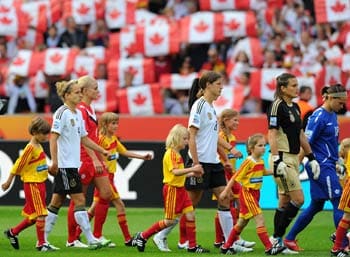 Even with this summer's Olympic Games in London as another opportunity to put the top American players in front of a large and diverse viewing audience as they try to win their third consecutive crown, Women's Professional Soccer suspended operations in January. The league pronounced that it would return in 2013, but most read it as an obituary notice.
The most serious problem of Women's Professional Soccer was an ongoing feud with magicJack owner Dan Borislow, who took over the historic Washington Freedom franchise and shipped it to Boca Raton, Florida. Borislow, the owner of an Internet telephone device company, was routinely belligerent with fellow owners in the league, according to The Equalizer, a specialty blog. Borislow ignored league policies on game-day event procedures, scorned the media and belittled many of his players to the extent that a formal complaint was filed with the WPS Players' Union. One player famously described her departure from the team last season as akin to, "leaving North Korea." WPS terminated his franchise late last year and Borislow sued, arguing that the league had not followed its own arbitration procedures; a Florida Circuit Court decided in his favor.
Women Professional Soccer's CEO Jennifer O'Sullivan explained the league's decision to suspend operations: "Over the last year the league has faced significant challenges, including a lengthy and expensive legal battle with a former owner [Borislow]. The litigation has diverted resources from investment in the league and has forced the Board to take action, suspending the 2012 season in order to address the legal issues head-on before moving forward with competition….The attention needs to be on growing the business. It hasn't been able to be there. It would've been unfair to try to put out a season with this still hanging over our heads."
Picking Up The Pieces
Coming to the rescue – sort of – is a 16- year old amateur summer league based in Sacramento – the Women's Premier Soccer League or WPSL.
Last season, the WPSL fielded 62 teams across the country. League founder and commissioner Jerry Zanelli worked quickly after WPS's decision to create a new league for players with professional aspirations, called the WPSL Elite League. Eight teams will play this summer: the reigning WPS champions Western New York Flash, the Boston Breakers (also from WPS), the Chicago Red Stars, FC Indiana, New England Mutiny of Agawam, MA, New York Fury, ASA Chesapeake Charge (Metropolitan Baltimore), and a new franchise in Philadelphia called the Fever. WPSL has said that it also has commitments from groups in Los Angeles, San Diego, Sacramento, San Francisco Bay area and Seattle for 2013.
WPSL Elite franchise fees are $10,000 and Zanelli said that budgets will range from $200,000 to $500,000 — modest compared to the prior two leagues. Certainly the players will not receive the level of compensation that they did in the past, either, but they will have a place to hone their skills while providing aspirational models to younger players. The WPSL Elite league will allow players to keep pace with other countries that have launched top-tier loops in the past few years, including Australia, England, Ireland and the Netherlands.
Some veterans are catching on with European teams. However, the reality is that the salaries that most teams pay to imports are at subsistence levels and not vastly different from what most WPSL Elite squads offer. Abroad, the Americans must compete with citizens of those countries and other imports for a few roster spots — with no guarantee that they will be playing in the starting 11. In most countries, the quality of play outside the top three-to-four sides is also inconsistent, and some women players may prefer to turn to coaching.
Women's Premier Soccer League Elite will be closely scrutinized this spring, in terms of quality, roster composition, attendance and sponsorship agreements, but the owners are confident that there is a market for women's soccer, based on the huge and continually expanding participation numbers at the youth and adult level. Combined with increased media attention from an expected medal from the U.S. women at this summer's Olympics, women's soccer will continue to be a vibrant and growing option for players of all levels of skill.
---
Tim Grainey covers soccer for Soccer 365 and has a recently released book, Beyond Bend It Like Beckham: The Global Phenomena of Women's Soccer.

Also see A Soccer Dad Faces Parenting, Coaching and Dreams by Mauricio Espinoza

See Becoming Glory: Kicking Goals to Transcend the Night, A Memoir by Christine Stark

Read the Cafe for new and updated stories.