by Ria Sen and The Feminist Press
The passionate writers who record stories of abortion — personal memories, histories, theory — make the language of the reproductive rights movement available, and, perhaps more importantly, keep it alive and flourishing. The seven books described below, selected by the staff of The Feminist Press, serve to supplement the articles in this edition on ABORTION so that the conversation can continue even after your computer is turned off.
In addition, many of the fine writers in this edition, also have released important books on the subject, which we hope that you will explore. Their articles are linked at the Book List's conclusion.
"Intimate Wars: The Life and Times of the Woman Who Brought Abortion from the Back Alley to the Boardroom" by Merle Hoffman (The Feminist Press)
Merle Hoffman's smart and gripping memoir is riveting: a former classical pianist, a self-made millionaire and a feminist who found her life's work providing abortions, Hoffman has been a fearless crusader for women's right to choose.
Over the years, Hoffman has used her entrepreneurial spirit to build one of the most comprehensive women's medical centers in the country. Whether addressing the murder of an abortion provider like Dr. George Tiller or challenging women to understand their own power over their bodies and the language used to wield such power, Hoffman has been on the frontlines of the feminist movement, a fierce warrior in the battle for choice.

"Abortion and Life" by Jennifer Baumgardner (Akashic Books)
In Abortion and Life, Jennifer Baumgardner explores abortion rights in America, addressing the unifying experience of abortion within the diversity of women who have them. Through this book, Baumgardner presents accounts of women that have had abortions and touches on the complicated process of terminating a pregnancy. Abortion and Life is a realistic depiction of what it means to carry out the right to choose.
"This Common Secret: My Journey as an Abortion Doctor" by Susan Wicklund with Alan Kesselheim (PublicAffairs)
Dr. Susan Wicklund puts forward a touching account of her life as a women's health provider and medical doctor with a "fundamental commitment to patients and to the cause of keeping reproductive rights safe and legal." This Common Secret includes Wicklund's personal experience of abortion as well, descriptions of the dangers – and satisfaction — she has encountered in her practice, the discovery of her own family's history and her growing determination to stand up to anti-abortion bullies.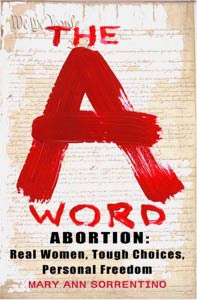 "The A Word: Abortion: Real Women, Tough Choices, Personal Freedom" by Mary Ann Sorrentino (Gadd Books)
Mary Ann Sorrentino wrote The A Word after working on the front lines as the head of a Planned Parenthood. She talks about fighting for abortion rights , the insidious death threats, the unfair targeting of her family and the stories of abortion rights activists.The A Word is a reminder of the work that still needs to be done.
"Undivided Rights: Women of Color Organize for Reproductive Justice" by Jael Silliman, Marlene Gerber Fried, Loretta Ross, Elena Gutierrez (South End Press)
Undivided Rights tells the history of the struggle for reproductive rights as it applied to women of color in the last century. The four author-activists talk about the civil rights movement and the ways in which women of color organizations emerged. Undivided Rights looks at the flaws of the white, mainstream discourse on individual choice post-Roe v.s Wade and explores new directions by women-of-color organization.

"The Choices We Made: Twenty-Five Women and Men Speak Out About Abortion" edited by Angela Bonavoglia and with a foreword by Gloria Steinem (Seal Press)
The Choices We Made is a vital oral history of abortion, painting portraits of a series of people – some well-known, others not – who have faced abortion decisions. Bonavoglia offers readers empathetic perspectives and puts forward a convincing argument, through the stories themselves, for the right to access safe and legal abortions.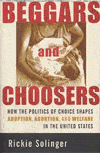 "Beggars and Choosers: How the Politics of Choice Shapes Adoption, Abortion, and Welfare in the United States" by Rickie Solinger (Hill and Wang)
Ricki Solinger calls for a shift in language and feminist thought from that of "choice" to one of "right." In Beggars and Choosers, Solinger outlines the post Roe v. Wade era as one in which the language of choice is a market-driven concept. But a right, she believes, is inherent and deserved. She writes that historical distinctions between women of different races and classes have been reproduced and institutionalized within the pro-choice movement by labeling some groups of women as "good choice makers" and some as "bad." Beggars and Choosers is a succinct and thorough examination that challenges the status-quo.
---
Ria Sen, a Feminist Press intern and recent graduate of Hampshire College, prepared this book list in consultation with The Feminist Press staff.

Also see: Anti-Abortion Harassment and Violence Still Stifle Access by Eleanor J. Bader in this edition of On The Issues Magazine

Also see: The Poet's Eye From Poetry Co-Editor Sarah Browning in this edition of On The Issues Magazine

Also see: "Love Means Second Chances": Reproductive Freedom in a Novel by Susan Elizabeth Davis in this edition of On The Issues Magazine

Also see: The Grand Folly of Focusing on "Common Ground" by Gloria Feldt in this edition of On The Issues Magazine

Also see: The Power of Theater: "Words of Choice" Touches Hearts by Alexis Greene in this edition of On The Issues Magazine

Also see: Gone Too Far? Reproductive Politics in the Time of Obama by Carole Joffe in this edition of On The Issues Magazine

Also see: Lila Rose: A Sweet Face to Accompany Extreme Anti-abortion Claims by Kathryn Joyce in this edition of On The Issues Magazine

Also see: Helping Bloggers To Help: Tips for Reproductive Health Organizations by Amanda Marcotte in this edition of On The Issues Magazine

Also see: What To Do When They Say Holocaust by Carol Mason in this edition of On The Issues Magazine

Also see: Fine Thoughts On Fertilized Personhood by Marge Piercy in this edition of On The Issues Magazine

Also see: The Art Perspective: Ursula O'Farrell curated by Linda Stein in this edition of On The Issues Magazine

Read the Cafe for new and updated stories.