by Alexis Greene
Words of Choice first emerged as a theatrical performance in the late 1990s when Cindy Cooper, its creator, was working as the Communications Director at the Center for Reproductive Law and Policy (now the Center for Reproductive Rights) in New York City.
The play, which embraces a range of attitudes about choice and abortion, began from Cooper's observation that "women's freedom was being treated like a game, with one 'side' winning and another 'side' losing." Public discussion was trivializing the issue, while in the real world a woman's right to secure a legal abortion was being eaten away, and real people were suffering as a result.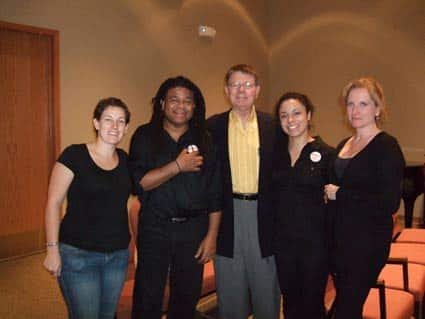 Working with Center interns and the stage director Suzanne Bennett, Cooper set out "to create a mosaic of pieces" that would portray "the many rich perspectives of reproductive rights." "Words of Choice" was initially a working title, but as Cooper and her band collected personal narratives, poems and documents, the temporary identity felt like a true fit and became permanent.
The first performance of Words of Choice took place in 2000 at New York's Ceres Gallery, a women's art collective that at the time subsisted on the edges of Soho. Since then, Cooper has founded Words of Choice, Inc., a nonprofit theatrical company that has performed the play in 20 states. Cooper estimates that there have been more than 100 live performances.
The original version, which is published in an anthology of women's plays called Front Lines and is sometimes performed in colleges, includes many personal stories of difficult abortion situations and a good deal of parody. The Words of Choice company now tours with a second version, Words of Choice II, which was created after 2007 and feels darker than its predecessor. This version contains a selection by Dr. Susan Wicklund, about her intense fear when abortion protesters threatened her and terrorized her family. She triumphs, but only by evading her would-be assailants in the dead of night.
It is hard to read or see Words of Choice without remembering what it was like for women in the United States before Roe v. Wade. My own introduction was a college roommate who quietly departed for Puerto Rico and returned a few days later, but ended up in the ER because the job had been botched.
And that was the high end of the abortion industry. Too many women induced their own at the raw tip of a knitting needle, or submitted to pain at the hands of an incompetent and never made it to the ER.
Touchstone for Audiences
The beauty of Words of Choice is that it arouses fierce responses: emotions, memories, thoughts about oneself and one's own experience. Abortion is not an easy choice for many women, and even when it is the only possible choice, it can be accompanied by a gamut of reactions. My own included fear, relief and sadness.
That Words of Choice affects audiences deeply is doubtless why performances continue to be held, at colleges, conventions and festivals, or in communities where the local clinics are determined, in the face of physical threats, to keep providing abortion services.
Cooper, who travels with the production as much as possible, seems proudest of the reactions from the most conservative in her audiences. The college student who said the play helped her realize that she could have different ideas than her parents. The student who confessed that Words of Choice was saying things she couldn't speak out loud because of the "stigma."
And while Cooper is modest about the actual political impact of Words of Choice, she was told that local performances across South Dakota helped defeat an abortion ban on the November 2006 ballot. If South Dakota voters had approved the measure, the state's constitution would have prohibited virtually all abortions. Doctors who went against the provision could have been charged with a Class 4 felony, gone to jail for as much as five years and been assessed a $10,000 fine.
Theater is supposed to be able to sway hearts and minds, or at least stir things up. That's what we who study theater and fall in love with it are taught from Intro to Theater on up. That's what the Marxist German dramatist Bertolt Brecht (1898-1956) preached and Vaclav Havel (1936-2011), the dissident playwright who became the first president of post-Communist Czechoslovakia, practiced.
In fact, the majority of plays and productions do not send audiences to the front lines. Most don't even try to.
But if theater has any purpose other than entertainment, it's to show new ways of seeing, to confront us with truths that make us think in new directions and even change our behavior.
That is what Words of Choice attempts as it journeys around the country. This play is the responsible, thinking person's antidote to the propaganda performances of anti-abortionists waving posters of fetuses. Whether Words of Choice affected the South Dakota vote or not, presenting it there was a political act, and the play's content undoubtedly affected members of the audience.
Keeping Stories of Freedom Alive
I asked Cooper how the abortion landscape in the United States has changed since she created Words of Choice in 2000. Her answer was not encouraging.
The thinking person's
antidote to the
propaganda
performances of
anti-abortionists
waving posters of fetuses
"There are better years and worse years, but mostly worse," she wrote in an email. "There were many ominous signs of danger when I began, and they are no longer signs but realities. Sometimes it turns in a moment, as in New Jersey, where Governor Chris Christie came into office and the first thing he did was cut funding to Planned Parenthood." Last June, even though the New Jersey Senate voted to restore $7.5 million in funding, Christie vetoed the measure.
"The anti-abortion movement," Cooper continued, "is multifaceted and joined at the hip with conservative political forces. It has deep pockets and has been unrelenting. Its focus and persistence is steadily eroding reproductive rights, even though the majority of people in the United States do not agree."
It may seem a Sisyphean task to pit one play against a movement that has become notorious for its violence. But that Words of Choice is performed by young women and men on U.S. campuses suggests a new generation understands the issues and is eager to defend reproductive rights.
"What has definitely not changed since Words of Choice came into being," says Cooper, "is the need to keep telling the truth and telling the many uplifting stories of reproductive justice." Without that, the pro-choice movement doesn't stand a chance.
---
Alexis Greene is an author and editor, primarily of books about women and about theater. She is also Director of Public Relations for the Community Environmental Center in Long Island City, Queens.

Also see: "Silent Choices": African American Women Open Up on Film by Faith Pennick in this edition of On The Issues Magazine

Also see: Sharing the Wealth of Knowledge on Abortion by Ria Sen and The Feminist Press in this edition of On The Issues Magazine

Read the Cafe for new and updated stories.