by M. Robbyn Swan
Barbara, 42, is lying in the middle of the living room floor in a pool of her own urine, tooting a brightly colored paper horn. It is New Year's Eve. I've just come in from an evening with friends. As I approach, Barbara rises and stands swaying before me. On her face is the blank, little girl grin she reserves for such occasions. She has been caught again.
Diagnosed as mildly schizophrenic, Barbara has spent 25 of her 42 years battling coke, heroin and alcohol addiction. This coupling of mental illness and substance abuse has become so widespread in recent years that it has left 10s of thousands homeless. Barbara is part of this large and growing population; experts call them "dually diagnosed." The increasing number of dually diagnosed people is one of several tragic coincidences that created the phenomenon of homelessness in the past decade.
The increase in the numbers of mentally ill Americans without any kind of daily supervision has been mirrored by an increase in the availability of lethal street drugs
In the 1960s, the Federal government moved to protect the civil rights of the mentally ill by abolishing the system of state-run mental institutions that had warehoused patients.
In the process, vast numbers of marginally ill people were released into communities that were unprepared to deal with them. Community- based mental health programs were supposed to replace hospitals, by providing a combination of outpatient psychiatric care and small neighborhood-based homes called Community Residential Facilities (CRFs). For a number of reasons, including community opposition to the homes, CRFs never developed as intended. Since deinstitutionalization began, a new generation of mentally ill adults has been added to the first. With only sporadic psychiatric treatment and meager family support, these people spend their days in the streets, sleeping in public libraries, chattering to themselves on street corners and, at night, drift into shelters and doorways.
In the United States, the homeless number between 300,000 and three million, depending on who is doing the counting. Dr. Bert Pepper is the country's foremost expert on the dually diagnosed. Pepper estimates that as many as 40 percent of the nation's homeless fall into this category.
Pepper began to treat the dually diagnosed 10 years ago. "It became apparent to me," said Pepper, "that the new generation of seriously psychiatrically ill young adults, who could no longer be institutionalized because of the changes in that policy, were living most of their lives in the street where they had access to drugs and alcohol."
Spending so much time in the streets, already beset by delusions and fears, it is not surprising that many fall into alcoholism and drug abuse. Experts say they are reaching for ways to silence the voices in their heads.
In the past two decades, the increase in the numbers of mentally ill Americans without any kind of daily supervision has been mirrored by an increase in the availability of lethal street drugs. As mental illness and substance abuse feed on one another, many patients spiral out of control, exhausting financial and emotional resources, often losing access to the most basic human necessities: Food and shelter.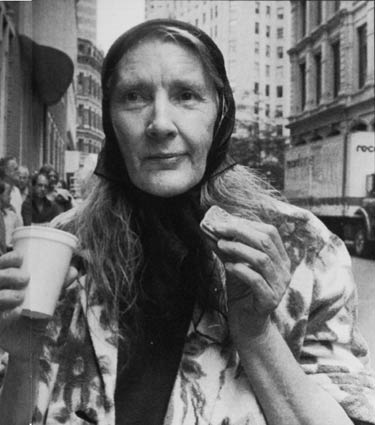 In the summer of 1990, I spoke at length with Barbara, who is dually diagnosed and, until recently, homeless. Barbara is 42, African-American and a lifelong resident of Washington, DC. I met her in 1987 when she was accepted into the transitional house for homeless women that I run in northwest Washington. This is Barbara's story.
"I'm a Washingtonian, came up with sort of a middle-class life. In my teens, in the '60s, I was like every other teenager with the music, going to movies, dances and things. I became an unwed teenage mother, not once, but twice. The fathers rejected me and the children, but I had family backup and they tried to help support my children and myself.
"They were older people and so we were coming along. Times were changing. I was trying to go to school to get my GED (a high school equivalency degree), but I never finished.
"I had this fantasy about finding the perfect man for me and my kids. But, well, that didn't come to real life 'cause I kept running across the wrong men as far as alcohol and drugs were concerned.
"My family found out and threatened to take my children from me, so I got off of that for a while and stuck with my children. I was getting jobs here and there. Not lasting very long, but long enough to make a little bit for myself. I was on public assistance and that was some help.
"We moved from the District to Annapolis, MD, and things got kind of difficult there. I wasn't getting welfare anymore. I saw my children going through something I had never gone through. We were freezing and starving. Things just didn't work out right, and I went back to drinking heavily. The kids ended up in a foster home.
"I moved back to the District when my mother was dying. I was trying to work in order to get enough income to get an apartment. That's all I needed to get my kids back. But the rent here is so incredibly high…
"I was able to save enough money, but I needed someone to co-sign a lease with me. With my past problems with alcoholism, my family didn't want to risk their credit. My mother passed away and I went into a depression. I was living with my family but I didn't understand them and they didn't understand me."
Barbara's memories are redolent with anecdotes about her addictions. Like many psychiatric patients, however, she has much less understanding of her mental illness.
Doctors say that the form of depression Barbara experiences is completely debilitating. She cannot eat or sleep, and can become harsh and abusive or withdrawn and silent. She is often delusional, hearing voices that tell her she is worthless, a whore. At such times, she dons a cheap garish wig, slashes her clothes in an effort to make them more provocative and walks off into the night.
'The situation as far as my being homeless is that my family just got tired of me. So, I kept going in and out of shelters for five or 10 years. That hurt because I kept saying to myself, Why should I be homeless? I've got people here, was born here.' "I was in and out of alcohol programs, the hospital, shelters, using alcohol, drugs…going to work, quitting jobs, and then I ended up in Mt. Carmel, which is about the best shelter anyone could go into. The sisters there are very patient, they deal with you. You get your medication, which is something else I needed after the changes I been through."
Mt. Carmel is a small overnight shelter run by the Carmelite Sisters of Mercy and housed in an old convent behind the giant headquarters of the U.S. General Accounting Office. In 1984, Sister Maria Mairlot, then Director of Mt. Carmel, and other members of the Women's Shelter Providers Network got together to form a new organization to provide permanent homes for the women in their shelters.
The group, Housing Opportunities for Women (HOW) was born at that meeting and now maintains four dwellings which are permanent homes for 20 formerly homeless women. Barbara was interviewed and accepted into HOW in June 1987.1 first met her in my capacity as live in house manager of the row house she shares with four others.
Unlike other shelters, HOW's first priority is providing permanent, affordable housing for indigent women. HOW does not link a client's ability to stay in treatment or sober with a place to live. The organization does, however, require that clients agree not to be intoxicated or use drugs or alcohol in the houses. In practice, this has meant that HOW is one of DCs few programs to accept the dually diagnosed while they are still struggling with their addictions.
The cycle of Barbara's illness is typical of people like her. Most of their mental illnesses can be treated chemically and the symptoms held at bay with consistent treatment.
Tragically, however, in the dually diagnosed patient, treatment is often derailed by substance abuse. Unfortunately, these substances decrease, and can completely eliminate, the effectiveness of prescribed medication, feeding the cycle of delusion and addiction as the patient confronts a welter of increasingly intense emotions.
If it is true that over one-third of the homeless suffer from some combination of mental illness and substance abuse, then current programs – geared only to subsidizing the cost of housing – will never meet their needs. Without changes in public perception and government policy, such people are likely to become homeless as quickly as apartments are found for them. Between these facts and help for those in need is a vast sea of political quicksand. Even advocates for the homeless seem to have trouble deciding how to realistically describe their clients. It is far more difficult to evoke public sympathy, and public funding, for a drug-addicted mental patient than it is for the working poor.
Experts say that our current mental health system fails people like Barbara because it has yet to recognize the unique treatment problems faced by the dually diagnosed. Carole Schauer, President of the District of Columbia's Mental Health Coalition, agrees. "You have a number of detox programs in this city that demand that the patient give up all medication during detox. If you've got a schizophrenic patient who needs psychotropics, it is almost impossible for them to undergo treatment for their addiction, or even cope with day-to-day tasks, without their medication."
Dr. E. Fuller Torre is a nationally known expert on schizophrenia who treats large numbers of Washington's homeless. Torre believes the best way to treat the dually diagnosed is to aggressively treat their psychoses with medication and then deal with their addictions. He is exasperated by the medical system's reluctance to force treatment on patients who desperately need it. "We can't force people to take their medication, we can't stop them from drinking, and because of this they remain psychotic," he says. "Thus, we have decided, in most jurisdictions, to allow these people to remain in the streets."
Torre and Pepper represent the two extremes of treatment for the dually diagnosed. Pepper thinks that treating a person who is still addicted is ineffective and dangerous. But both agree that the problem continues to worsen. It's a classic Catch-22. A breakdown in the public mental health system coincides with an increase in the availability of illegal drugs, creating an environment that breeds an even more intractable disease than the one originally faced. The same breakdown in public health care makes it impossible for the system to respond adequately to new and harsher realities.
Barbara, like many who have used this system, shakes her head in disbelief at its vagaries.
We both got a chance to see the system at work on that New Year's Eve, when I discovered Barbara had once again gone into crisis. That night, even with my help, it took Barbara 15 minutes to negotiate the short distance to her bedroom. There had been signs for several weeks that Barbara might be headed for collapse. During the past few days she had become uncommunicative and hostile, and I had asked her psychiatrist to intervene and have her committed to either St. Elizabeth's, the District's publicly-funded psychiatric facility, or to a substance abuse program. When these attempts failed due to a chronic shortage of beds, her psychiatrist and I decided that if Barbara did go on a bender, I should work rapidly to have her admitted to the city's acute care detoxification unit. We were hopeful that after the required three day stay, the unit's staff would be able to admit Barbara to a residential substance abuse program for further counseling.
Washington's dually diagnosed are luckier than most. The city does have a program geared to their needs, the two year-old Psychiatric and Substance Abuse (PASA) clinic. Tragically, with an estimated 10,000 people a year passing through emergency psychiatric services, the PASA program has a two-month backlog of patients.
The city's detox unit shares grounds with DC General Hospital and the city jail. It stands in a separate building halfway between the two, reflecting its status in its location. The outside door is locked. You ring to gain admittance. Every floor is locked, every window covered in wire mesh. The foyer looks like a high-school gym with its pea green walls and bare, humming fluorescent lights. There is a coke machine on one wall, and a locked telephone near the elevator.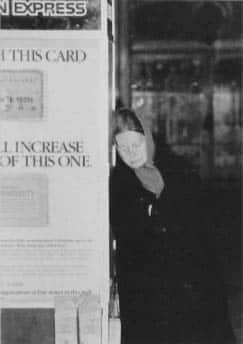 Barbara talks easily and emotionally Ironically, a homeless woman is propped up by American Express. about her life when she is drunk. There is a great gulf between the sober woman who gives a careful account of missed opportunities, and the woman Barbara becomes at these times. In a long tale of tragedy, she repeatedly, without intended irony, injects the phrase, "I am somebody. " Period.
"I've been in Garrick Hall [the District's residential substance abuse program], DC General, and St. Elizabeth's as far as my nerves. They put you on medication. At Garrick Hall, I was on Mellaryl. But, I felt claustrophobic, like the building and walls were closing in on me. Plus there were men there, more men than females, and I always get into this bad habit when I end up in the alcohol program. I'm always ending up with the guys.
"I was getting paranoid about that, too. I felt like I didn't have any control. So, I felt like it was just better for me to come out of there.
"The program at St. Elizabeth's had me on Halydol, and that kept me paranoid, and I was having the same feelings. So, I left there.
'The program, since they don't have enough money to have the staff persons to keep meetings going throughout the day, it's very boring and disgusting. To be under this medication and then have only one or two meetings. So during the day you just lay around and watch TV or shoot pool, and you feel like you're an animal in a cage. You feel like you're unwanted, and the medication isn't working, and you don't have any freedom. So, I just left there, because I felt that maybe I can come back and get this out of my system and start all over again. But, as far as this drinking …whenever I get disappointed or angry or upset, I stop taking my medication. I get back to drinking. I can't sleep. I can't rest. I try to stay up because I'm afraid that somebody is going to come and attack me while I'm asleep.
"So I have this battle going on. I'm fighting with the out side world. I'm fighting with the shelter situation, and on the streets, with people out there in the community, and with myself. So, it's a hell of a battle."
In many ways, Barbara has been trying to help herself in all the ways our society demands.
She consistently refuses welfare in favor of working long hours as a janitor. She dotes on her children and grandchildren, encouraging them to stay straight. And she is still trying to save enough money for a subsidized apartment where she will gather the three generations of her family around her for the first time.
Former HOW Executive Director, Brian Carome, says that Barbara is typical of many of the organization's clients, "an extremely intelligent and sociable woman who is trying to make progress in life, but who is hampered by two severe problems – alcoholism and mental illness – for which she has never been able to get consistent treatment."
While the experts wrangle, and continue to agree to disagree, Barbara suffers on.
"I get real depressed for a few months and then one morning I get up and look in the mirror and say, 'Well, wait a minute, who are you? What do you want to do? Is this what you want to be?' And then I wake up and I try all over again. It gets kind of sickening to be always starting your life over again, but it's necessary…"
---
M. Robbyn Swan is a Washington, DC based freelance writer and advocate for the homeless.