Poems by Gale Jackson
Conversations with love: 25 and her sister's dead.
it's a full moon and who would know a young girls pain
like her own sister after the family has gathered to mourn
to eat to drink to laugh again she returns to the stoop alone
the stoop where she left them all so long ago that there are lines
she covers with make-up for eyes that never imagined not just
blinking open to each morning or that grown up living would tie
your wings she sits on the stoop looking back and out
into the future the one who was with that boy who's mother still
lives around the corner the one who back then was so in love
got pregnant and then went to the service to buy into larger
living before things got to be such a mess that she's back here
looking at the old neighborhood and the old neighbors
the park and the stoop with such soft sadness and lines
around her eyes and no sister no more to talk to.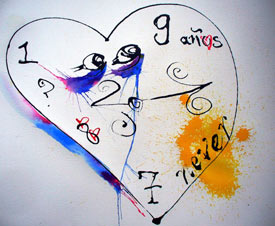 Conversations: Other Angels
the kids' mother died
last night
the kid's mother had
AIDS
the kid's mother was just
a kid herself
what can you say at a young woman's
funeral
that she was so alive once
she loved to dance
latin samba rumba
that you can't like crack smack
heroin
its something bout living
that hurts
like
some people feel it too
much
too sensitive
as in do not touch
or please touch
like when you dance you whirl
so much on your own
and every once in a beat
your partner catches your hands
that living is like being
an acrobat and
maybe some people can't hang with
that
maybe i don't really know
shit
but the kids mother died last night.
Gale Jackson is a poet, writer, librarian and cultural historian who received a National Endowment for the Arts fellowship for her work in griot traditions and whose writing has appeared in many publications and anthologies including Callalou, African American Review, Artist and Influence and Essence. She is the author of MeDea, Suite for Mozambique, Bridge Suite: Narrative Poems, A Khoisan Tale of Beginnings and Ends, and We Stand Our Ground with Kimiko Hahn and Susan Sherman. She currently serves on the faculty of Goddard College, as poet in residence at The Secondary School for Journalism and as storyteller in residence at The Hayground School. She lives in Brooklyn, New York.