By Merle Hoffman, Founder/PresidentChoices Women's Medical Center

It has been 43 years since I founded one of the first legal abortion clinic in the country—2 years before Roe. V, Wade. It has been 25 years since I organized the first pro-choice civil disobedience.  It was 1989 and Operation Rescue was riding high, defying court orders and blocking clinic entrances, racking up eight hundred arrests in New York, New Orleans, and Cincinnati.  Anti-abortion restrictions were working their way up to the Supreme Court.
I recognized then that those of us who understand how necessary the right to safe and accessible abortion is to women's lives had to respond and that the time for patience was over. On Sunday, April 2nd, hundreds of us gathered in front of St. Patrick's Cathedral in New York City. Mary Lou Greenberg and Maria Lyons burst onto the steps of the Cathedral just as mass was ending and unfurled our proclamation. "On behalf of the women of New York City and their sisters throughout this country and out of love for the truth and the desire to bring it to light," it began, ending in our assertion: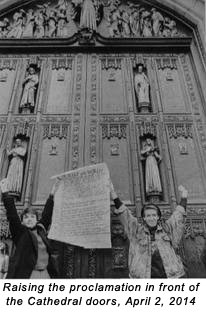 "We stand here not as beggars at your gate but as people of conscience who affirm that:
Women are full moral agents with the right and ability to choose when and whether or not they will be mothers.
Abortion is a choice made by each individual for profound personal reasons that no man or state should judge.
The right to make reproductive choices is women's legacy throughout history and belongs to every woman regardless of age, class, race, religion, or sexual preference.
Abortion is a life-affirming act chosen within the context of women's realities, women's lives, and women's sexuality.
Abortion is often the most moral choice in a world that frequently denies health care, housing, education, and economic survival."
The next day, the New York Times quoted me as saying, "Women's rights are in a state of emergency."
Twenty-five years later, it is dizzying how much truer those words are now. Since that time, eight people have been murdered for their role in providing abortions. Hundreds of acts of violence and terror have been carried out against clinics. Patients and staff everywhere, including at the doors of my own clinic in New York City, are harassed every single week. 203 laws have been passed restricting abortions just in the last three years. And in those same three years dozens and dozens of clinics have been forced to close – in Arizona, Texas, Michigan, Ohio, Virginia and beyond.
This is why I am proud that a new generation of organizers are stepping forward, including by returning to St. Patrick's Cathedral 25 years later, to take forward the righteous legacy I helped establish.  I am also proud to be joining friends and colleagues in the nationally webcast Emergency Abortion Rights Speak-Out to be held in New York City this Friday evening.
I urge people everywhere to tune in and turn out. The future of women depends on what we do.
See you April 11 and 12th!
Friday April 11, 7-9:30pm EDT
Abortion Rights Emergency Speak-Out
Advent Lutheran Church, 93rd & Broadway, New York City, 7-9:30 p.m.
Speakers include:
Dr. Willie Parker, award-winning doctor at the last abortion clinic in Mississippi
Merle Hoffman, CEO of Choices Women's Medical Center, which has provided abortions and other health services to women since 1971
Sunsara Taylor, writer for revcom.us/Revolution newspaper, leader of the Abortion Rights Freedom ride, and initiator of StopPatriarchy.org.
Donna Schaper, Senior Minister of Judson Memorial Church, on her own abortion and why we must defend this right
Marge Piercy, poet, novelist, memoirist, via video message: "It was a time when falling in love could get you killed."
Bill Baird, reproductive rights pioneer who was jailed eight times in five states in the 1960s for lecturing on abortion and birth control
David Gunn, Jr., son of first abortion doctor to be assassinated, via video message .
Testimony from:
Susan Cahill, owner of the Montana abortion clinic that was destroyed and closed on March 3, 2013 about how this is an attack on all women
Dr. Susan Robinson, one of only four doctors in the U.S. who openly provide late-term abortions; featured in the acclaimed documentary After Tiller
True stories of illegal abortions before Roe v. Wade
Saturday, April 12th: PROTEST!
RAISE BLOODY COAT-HANGERS* AND BREAK THE SHACKLES OF WOMEN'S ENSLAVEMENT
NYC: 2pm: Gather at NW corner of 49th St. & Fifth Avenue; 3:00 pm: Procession to St. Patrick's Cathedral and silent protest
Check StopPatriarchy.org for protests in other cities or to plan your own.
* Wire coat hangers were used by many women as an instrument to self-abort when abortion was illegal. 5,000+ women in the U.S. are estimated to have died every year from illegal, unsafe abortions before Roe v. Wade legalized abortions.