by Alexis Greene
Nikkole Salter grew up in Los Angeles. Danai Gurira was raised in Zimbabwe. In 2001, the two women, aspiring actors in their early twenties, met at New York University, where they were both enrolled in a graduate acting program. Three years later, they created a play for themselves called In the Continuum, about a largely hidden subject: black women suffering with HIV/AIDS.
Missing Stories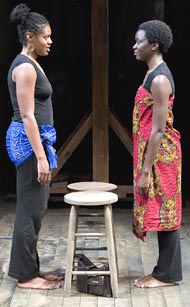 "At the time," says Salter, "the leading cause of death among African-American women ages 25 to 34 was AIDS. And these were women who were being infected through sexual interaction, not intravenous drug use."
"I grew up seeing it," says Gurira.
Since AIDS invaded the world's population like a scourge in the early1980s, theater has been a potent force for telling stories about the disease's victims. By 1994, Rob Baker, in The Art of AIDS, was writing that "the stage depictions of the epidemic have continued to be the most outspoken and most successful of AIDS art."
But of the hundreds of stage-worthy representations, most have focused on men, from Larry Kramer's The Normal Heart to Tony Kushner's political epic Angels in America to Cheryl West's unsettling drama of a distraught African-American family, Before It Hits Home.
An exception was Jonathan Larson's 1996 rock musical Rent, in which the drug-addicted Latina heroine dies of AIDS.
In the Continuum puts a young African-American woman and a Zimbabwe wife and mother front and center.
Two Women, One Disease
FROM In the Continuum
by Danai Gurira and Nikkole Salter

ABIGAIL: "These men, they want to
play away and have us at home at the
same time….But, you know, I think
another baby will make him act better;
Auntie always said showing the husband
you are a good and fertile wife will
keep him indoors."

ABIGAIL: "In me is the pride of Winnie
Mandela who marched the streets of
Soweto singing 'Free Nelson Mandela'
until they did. In me is the ferocity of the
woman freedom fighter who let go of the
milk of human kindness to fight for a free
Zimbabwe! I am no longer the third of four
wives, but the first of the first."

NIA: "Tomorrow…I'm gonna make Darnell
look me in the face and tell me I'm only
worth $5,000. Then, I'm going to stand
there in front of…the whole world and I'ma
just say it. And then all the girls he been
with's gon'know. And then everybody will
know. I'm worth more than this money."
–Alexis Greene


Nikkole Salter and Danai Gurira
in IN THE CONTINUUM.
Photo credit: James Leynse.
The form of the play is unconventional–rather like a performance piece for two women.
Impoverished, eighteen-year-old Nia, who lives in South Central, L.A., never actually talks with Abigail, a thirtyish television newscaster in Harare, Zimbabwe. In Primary Stages' minimalist Off-Broadway production, each actor inhabited her side of the stage, where she spoke to "invisible" characters and at other times portrayed characters from whom Nina or Abigail seek advice and help.
But as Gurira and Salter write in their introduction to the script that one of their goals is to show that Nia's and Abigail's stories are "separate, yet parallel." Each woman only learns she has the disease when she becomes pregnant. Each has been infected by the man in her life: a local basketball celebrity in Nia's case; a husband who frequents prostitutes in Abigail's.
Both women realize that the men know they carry the virus—"he knew, he knew, that bastard," Abigail cries toward the end. And both women fear to confront their men.
A painful irony of Abigail's story, in fact, is that, despite choosing to make herself "The New African Woman," who "can become whatever I please," she bows to the regressive tradition that a Zimbabwe woman must be married, with the double standard it entails. Abigail is afraid that her husband will beat her and throw her out of the house if she reveals her diagnosis. "She's still crippled by elements of gender culture," says playwright Gurira.
As for Nia–broke, homeless and politically naive—she allows her silence to be bought for $5000 by her sometime lover's mother.
Reflections of A World
Indeed, these women have not contracted HIV/AIDS in a social vacuum. That is one of the play's strengths. The "continuum" of the title refers, among other things, to the gender relationships and cultural expectations of the worlds in which Abigail and Nia struggle to acquire independence and fulfillment.
Nia's school counselor tries to find the girl a job, but the fantasy of being a "playa" and doing the club scene exerts more power. Abigail searches for medical help that is either unavailable or, a nurse tells her, "very, very expensive."
Both women operate in worlds where talking openly about AIDS is unacceptable, where families are not supportive and social structures give sexual license to men.
At the play's end, Abigail desperately encourages herself to move "forward, forward, forward."
In the real world, the HIV/AIDS continuum remains.
---
Alexis Greene is a New York-based author, editor and theater critic who writes about the performing arts and about women. Her book The Story of 42nd Street, written with Mary C. Henderson, is being published in fall 2008 by Watson-Guptill. Her anthology Political Visions: 7 Plays by American Women, edited with Shirley Lauro, is being published by The New Press in spring 2009. In The Continuum is available from Samuel French play publishers.