by Natalie Bell
Women of color increasingly feel empowered and emboldened to defend their rights to make healthy decisions about their bodies. This sentiment was in clear evidence at the fifth national membership meeting of the SisterSong Women of Color Reproductive Justice Collective in Washington, D.C. in early November, as participants not only talked the talk, but walked their talk straight to Capitol Hill.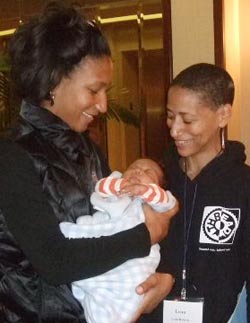 Spirits were high as more than 400 women and a handful of men from 26 states assembled to raise the floor on the reproductive concerns of women. SisterSong, now in its 12th year, has a membership of individual members and more than 80 reproductive justice advocacy organizations across the country.
"The color of power has changed in the nation's capital," said Loretta Ross, National Coordinator of SisterSong. "SisterSong has been given unprecedented access to have a conversation with the Obama administration. But we shouldn't confuse access with influence. We need to be at the table — or we might be on the menu."
Stepping Into Action
The coincidental timing of unfolding events in Washington gave SisterSong the impetus to step up its activities. No sooner had the conference gotten underway on Saturday, November 7, than word came that Congressional representatives were taking a rare weekend vote on an anti-abortion amendment and possibly on an anti-immigrant amendment to the Affordable Health Care for America Act (H.R. 3962), the health care reform legislation. SisterSong opposed both and conference planners quickly shifted gears, organizing state coalitions of members to head to the Capitol to rally U.S. representatives to vote against the amendments.
The decision to revamp the planned meetings occurred even as Caya B. Lewis, the high-ranking director of outreach in the new Office of Health Reform in President Obama's Department of Health and Human Services, took the podium to tell SisterSong members how important health care reform is for women of color. People of color are disproportionately uninsured, she said, with women more likely to be uninsured than men. Medical costs cause 52 percent of women to delay needed health care, she said.
Lewis explained benefits of the legislation: co-pays would not be charged for mammograms or other important preventable services; insurers would not be able to label pregnancy or caesarean sections as pre-existing conditions. "We know there are nine states that even consider domestic violence to be a pre-existing condition. That will be stopped," she added.
Looming immediately, however, was a vote on the Stupak-Pitts anti-abortion amendment, which would ban insurance companies from covering abortion if they wanted to sell any insurance in a new national exchange – virtually eliminating coverage for abortion services for women who will be required to buy their own insurance. Abortion is currently covered in 87 percent of private insurance plans, said SisterSong.
SisterSong participants quickly gathered in groups, created unified talking points, and left the conference hotel to meet with members of Congress and their staffs to explain how the anti-abortion amendment would affect the lives of poor women and women of color. Members used Twitter and Facebook to spread the word to networks around the country, urging friends and allies to take action.
Despite the passage of the Stupak-Pitts amendment in the house, "this fight is not over," said Ross. "We have proven our power to mobilize our large base of members," she said and urged continued activism in communities where representatives voted against the interests of low-income women and women of color.
Across Multiple Concerns, Women Take Charge
Public and private discussions with participants at the conference underscored their eagerness to press forward on topics ranging from the politics of sexuality to the impact of violence, oppression and the environment on women's bodies and reproductive rights. SisterSong and its member organizations are committed to three core values: the right of every human being to have a child, not have a child, and to parent a child, said Ross.
A powerful bloc of women living with HIV attended the national meeting, including several attendees from SisterLove in Atlanta.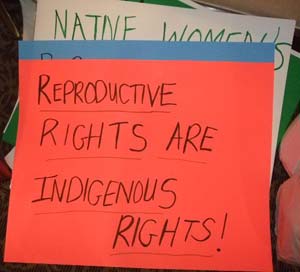 One woman with HIV spoke at a reception about recently giving birth to an HIV-negative baby. Already having one child born with the virus, she visited several doctors who refused to treat her with her second pregnancy, she said. "We have the right to have children, to be respected — and to wear stilettos," she beamed, gradually taking a stand in the middle of the room with her baby on her hip.
A woman who called herself "Tammy – That Girl" twirled around at the reception to declare that she had been living with HIV for more than 20 years, while a Philadelphia woman in attendance noted that HIV requires awareness. "It may not be what you're doing, but what your partner is doing," she said. "Whatever you're doing to advocate for reproductive justice — HIV care must be integrated in that fold," she said.
Dazon Dixon Diallo, executive director of SisterLove, said, "Whatever you?re doing to advocate for reproductive justice — HIV care must be integrated in that fold."Ê She added, "Black women are under assault in our risk of vulnerability to HIV/AIDS." Women comprise 25 percent of HIV/AIDS cases in Georgia, and black women make up 84 percent of the women, she said. One incarcerated woman in Georgia living with HIV was denied medication until her condition had progressed to full-blown AIDS. Diallo lamented what she called the "multiple levels of oppression" to which women in the South are still subjected, resulting in not only high levels of HIV, but high infant mortality, maternal morbidity, teen pregnancy, syphilis, illiteracy and high school dropout rates.
Cupid Shuffle

I came to cover the SisterSong National Meeting,
as I had many public affairs events,
prepared to take in the core message
and record how it was played out in dialogue and action.
As a journalist and educator, I had studied,
experienced and written about women's issues.
But this was my first opportunity to witness
a contemporary movement of hundreds of young women,
fearlessly embracing the personal as political.
What a powerful effect!

These were beautiful women,
inside and out, and they knew it.
Yet there was no competition, envy or jealousy here.
Each had come from different corners
of the nation, small and large cities alike.
They moved about the conference,
speaking to one another, secure in themselves,
in the issues they brought to the table,
and with respect for the same of others.

Their convergence on Washington, D.C.
was a celebration in community-building
around issues of health and sexuality.
I was dazzled from the opening moments
of the early-morning session by the power in their walk and talk,
as it exploded into groups of women dancing to the "Cupid Shuffle"
in the main conference ballroom as a soundtrack played.
The sheer force of female energy took over the entire space.

~Natalie Bell
Women from other parts of the country described differing concerns in similar language. "The South is just like Hawaii when you look beyond the hotel facade and the hula girl," said Darlene Rodrigues, who is part of 3rd Path Movement for Reproductive Justice in Hawaii. Rodrigues described in an interview how she and other women are attempting to reform delivery of services for women who seek protection in domestic violence shelters. "We're trying to change the way domestic violence is addressed. An analysis of race, class and religion should be included," said Rodrigues.
"Most of the women who come into the shelters on Molekai (the island) are on welfare," added Malia Kuoha, also of 3rd Path. Some women are forced to choose between living in the shelter or having their children taken away, she said.
Women from California's Asian Communities for Reproductive Justice (ACRJ) described their work to organize Vietnamese nail salon workers in the San Francisco-Bay area around health and safety issues. The strong smell that one encounters upon walking into a nail salon is toxic, and can cause health problems, said Maria Nakae, of ACRJ. (Also see an article by Jacqui Patterson in this edition of On The Issues Magazine.)
Nakae said that many of the chemicals in personal care products used at home, as well as in nail and beauty salons, have been linked to persistent miscarriages and infertility in women. "It's not the responsibility of workers, but of manufacturers in industry to make sure workers and consumers are not exposed to products or chemicals that are toxic," said Nakae. While many workers experience health problems, such as respiratory, skin and reproductive ailments, they usually cannot take off from work and have no access to health insurance. ACRJ is focused on advancing chemical policy reform, specifically to protect nail salon workers and others who work in toxic industries.
Women in the Native American and indigenous populations need to understand that a woman's right to govern her own body and take care of it in the way she chooses is a foundational principle of their culture, said Jessica Yee, founder of Native Youth Sexual Health Network, a coalition of 13 indigenous organizations. Education for her group involves teaching young people full cultural competency and to talk to elders about sexual and reproductive health.
"Life begins with women. Our bodies are powerful!" Yee announced like a high-spirited cheerleader during a presentation to the full membership, coaxing SisterSong conferees to get up out of their seats and wave their hands in the air with pride.
This rousing atmosphere is part of a building awareness by women of color of the multi-layered import of reproductive justice. Said Gabriela Valle of California Latinas for Reproductive Justice, "This is all about audacity. We have the audacity to want it all."
---
Natalie Bell is a freelance journalist in New York who has taught college courses in women's and media studies.

Also see "The First of All Liberties: Making Health Care Meet Women's Needs" by Eesha Pandit in this edition of On The Issues Magazine.

See "Black Abortion: Breaking the Silence" by Maame-Mensima Horne in this edition of On The Issues Magazine.