As the U.S. Supreme Court was listening to lofty legal arguments about teenager's rights to abortion without parental consent or notification, more than 100 New York teens, their teachers, advocates and allies discussed a wide range of topics pertaining to both choice and adolescent sexuality. Sponsored by the New York ProChoice Coalition, the Teen Speak-Out on Choice lambasted attempts to legislate familial communications, and urged lawmakers to resist imposing parental consent or notification laws on teenagers choosing to terminate unwanted pregnancies.
Among their statements were the following:
VEENA SUD
Students Organizing Students
"The Supreme Court is deciding if we can think for ourselves. These wise sages threaten to think for us. Do they know what it feels like to be a teenaged woman of color, who lives in a traditional family and will be kicked out if she tells them she's pregnant? Do they know what it feels like to be raped? They don't take care of the fact that our babies are dying at birth or a few days later because we don't have access to prenatal or postnatal care. We see and feel the painful reality that every 18 seconds a woman is beaten, that one out of every two women will be assaulted by a man she lives with at some point in her life, that the number of female children raped by fathers or male relatives is skyrocketing, and that hundreds of children are being abused in the Great American Family.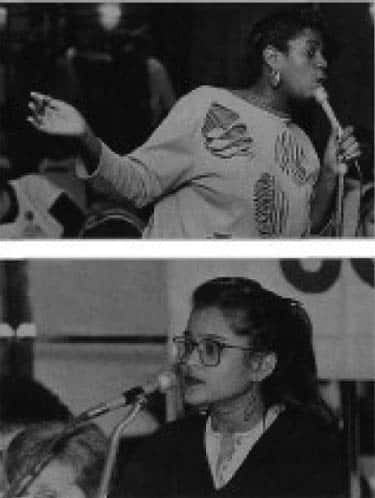 ..If the line can be drawn at 18 years of age, how safe are women really?.. .We're not here begging, because human rights should not be about begging. We're here demanding."
EUPETERSON LEWIS
Franklin K. Lane High School
"Parental consent will not create better relationships. It would only lead to explosions. A friend of mine became pregnant. She was afraid to tell her parents and had an irresponsible boyfriend. She ended up drinking a glass of vinegar, but it didn't work. She then had her sister punch her in the stomach. She finally miscarried, alone on the floor of her bathroom. She needed support and education. She did not need a law requiring parental consent."
VICKI ALEXANDER, M.D.
Community Family Planning Council
"As we are yelling and screaming to keep abortion legal, we also need to be yelling and screaming for the support necessary to carry our pregnancies to term. The problem isn't just 500,000 teen women wanting abortions. Many of them appear at a clinic very late in their pregnancies trying to obtain abortions. Why do they delay? Often the teens don't even know they're pregnant. We do a very poor job of teaching sex education in the schools. They often don't know that you can get pregnant the first time, that you can get pregnant even if the penis doesn't enter the vagina."
PAT MALONEY
Planned Parenthood of New York City
"It's very clear that people who support these laws think they stop teenagers from having sex. But in Minnesota, where parental consent was in effect from 1981-1986, the birth rate to teens aged 15-17 went up 38 percent. We know these laws do not stop teenagers from having abortions. In Minnesota, second trimester abortions went up 26 percent. In Massachusetts, another state with parental notification laws, the number of teens traveling to New York for abortions went up 26 percent."
LILLIAN TEAGLE
J-CAP
"We care about the quality of life of young mothers. Most people say 'you're too young to be a mother,' or 'you'll be a welfare mother.' We don't want anyone to think that having a child is easy. It's the hardest job you'll have in your life. But we're talking about choices – the choice to have a child or not to. There's no right, no wrong."
AUDIENCE MEMBER
19 years old, J-CAP Participant
"Just because you're a mother doesn't mean you won't succeed. I work. I take care of my daughter. I can still go to college. Just because you have a baby as a teenager, your life isn't over. It's just beginning."
DORCAS MATOS
Franklin K. Lane High School
"I come from a religious family. My father is a pastor. He is prolife, but he understands and supports my decision to be prochoice. He realizes my life is my own. I'm one of the lucky ones."
THERESA ESPOSITO
Franklin K. Lane High School
"Being Catholic and being prochoice is not always an easy combination. I believe in my religion and I am not in favor of murdering babies. I believe in a woman's right to choose. A law cannot take a distance relationship and make it a close one. That is why I want choice, the choice to have a baby or to talk to your parents."
BILL BAIRD
25-Year Veteran
"Do you need permission, as a teenager, to have a child? To be treated for VD? To put a child up for adoption? No. The Court is now deciding if a minor can be mature enough to have an abortion. If she's immature, they can require her to have a child. Are we nuts? If we are not careful, history can repeat itself. Women used to use lysol, bleach and turkey basters filled with salt water to try to induce abortion. I still remember the woman who died in my arms in 1963, with an eight-inch piece of coat hanger still in her vagina."