by Helen M. Stummer
Worrying about my tires seems appropriate, consistent. No matter what I do, if it is important or meaningful, my car runs badly. So here I am again, bumping and creeping along that rocky, rutted road to Mandala, worrying about getting a flat tire. Realistically, once off the main road, it is only a little over a mile, but emotionally it seems endless. Mandala, symbolizing the universe, totality, and wholeness, is the core foundation of H.O.M.E. (Homemakers Organized for More Employment) where Sr. Lucy Poulin, president and founder, Ellen Moore and Sr. Marie Ahem live. Many others also live in the converted barn, or in the adjoining buildings, that were donated to Sr. Lucy 20 years ago when H.O.M.E. began.
The H.O.M.E. Co-op is five miles away in Orland, ME. This is where the saw mill is located, where crafts are made and sold, where the learning and day care centers are, and where the offices that coordinate the many programs to aid poor and low-income people are found. Part of this organization also consists of "St. Francis Inn," situated on the road between H.O.M.E. and Mandala. The Inn serves as a shelter for battered women and children and is one of the only "in-house arrest" prison programs for women in Maine. Here, children do not have to visit their mothers in jail, sitting for two hours at a small table in a room with 200 others. At the Inn, mothers can cook for their children, have picnics, watch TV – like a real family again.
On the road to Mandala, there are a few signs that I am not lost. They are all humbly made. There is also a very unassuming post and gate that indicates the beginning of Mandala or, as it is also called, the Sanctuary. Soon vegetable gardens come into view, as do chickens, dogs, cats and goats.
To me, it was the five or six goats on the front porch that seemed the most unusual. "They're terrible," Lucy said with love. "They're all over. They eat everything. We need to shear them for their wool in the spring, put them on an island somewhere until the fall, when we need to shear them again."
This is not my first visit to the Sanctuary. I already feel comfortable seeing the solid wooden door and hearing Lucy's welcome as well as baby Jimmy's. He is now two and has been living with Lucy since he was only a few months old.
Today Lucy is wearing her black beret. On other days she wears a blue and white bandana or a white painter's hat with "Maine" written on it. Lucy is always in work clothes. She is always working, mentally or physically, and believes in Ghandi's philosophy, "Live simply, so others may simply live."
There are two small windows against the kitchen wall in the large room. Simplicity is the dominant decor. A large table, many straight back chairs, horse bridles hanging on a pole, a rocker and flowers are visible. As we stood in this large and peaceful room, Lucy talked about the realities of living and working with people in need.
"There is so much we have to handle because of all the children we care for. There are always so many problems. At the H.O.M.E. Co-op there is another set of constant crises and financial problems. It is overwhelming. But the animals take our minds off it. There is a skunk that comes in every night and knows where the cat food is. I came out last night at 4 a.m. to give the baby a bottle and the skunk was busy eating. It never sprays inside, but it will spray outside if the dogs bother it. We live together here. Even the goats, chickens, dogs and cats seem to get along and hang out together."
Lucy's new room is small but bright and airy, with a deep sense of quiet about it. She was beginning to bring in some furniture and had just hammered on the wall a beautiful quilt which I admired. As I took out my camera, Lucy became visibly uncomfortable. I apologized as I photographed her, sharing with her my own anxiety over being in front of the camera.
Focusing our attention back to the room, Lucy said, "We might as well look at the quilt as leave it in the chest. When I was growing up we always covered the holes with quilts; or, if the walls weren't thick enough or the cold was blowing in, we would take one of our quilts and put it up. We didn't have doors in our house.
"Sometimes when I speak to a group they are so hostile about people being on welfare. I let them finish, and then I tell them that my mother was on welfare. She had 11 children to bring up. We were so poor. We thought it was a rest to go to school because we had to work so hard at home. We would often stuff the openings in the wall with newspaper. Newspaper makes good insulation. We used knives to stuff rags in the cracks in our foundation and that would help keep the cold out." Lucy's childhood training – to use whatever was available and not waste – is reflected throughout the organization. "We live on very little," said Lucy. "We use everything."
The saw mill is a good example. It not only provides lumber for the houses that H.O.M.E. builds for low income people, but the wood is also used for the many crafts that are sold in the store. The by-products are sold or given away to the poor as fire wood or as sawdust which is used for mulch and animal bedding.
"Our household has a lot of strain," Lucy continued. "Just getting up is a problem. Right now there is too much stress. We're trying to change it. The baby is a full-time job. Any mother knows that, but in our household we have three adults, and right now there are six teenagers who are marginal, not able to take care of themselves. They are wonderful." But, as Sr. Marie said, "We have a wild selection of kids who live with us. They're good kids; it's just that they need constant help and attention. I don't know where they'd be if they were not with us ¥ – probably in jail. We're glad to have them, but it's hard."
"So," said Lucy, "it's get up, take care of the baby, have prayer and breakfast. If one of the children gets keyed off it affects the household. Keeping that household constant and arranging transportation – maybe it's too much to live in a shelter and to work all day with the same problems at the H.O.M.E. Co-op. 'Cause it's around the clock. That's why we're adding on to the house and making it better. We need another responsible adult here to clean and cook and look after things."
Just then, two-year-old Jimmy comes into the room and Lucy is ecstatic. Lucy has been trying to get legal guardianship of him from his birth family. The parents didn't show up for the hearing. But it seems the judge is skeptical about life at H.O.M.E. At their hearing, the judge wanted to know if this was "parenting by committee," and if it was "Boys Town East." In spite of his unprofessional remarks, he gave Lucy six months guardianship until the state has had a chance to come in and investigate Jimmy's surroundings.
I asked Lucy about her life as a religious woman, a nun. She said, "I was 26 when I went into the monastery. All I ever did before that was work my mother's farm. I worked in factories, mills and was a maid and a servant. I was in the monastery for 11 years. We did anything that got money and we learned a lot of theology and philosophy. We made shoes because that was what people came to us for. When the shoe market collapsed, we went on to make crafts because that's what we knew. Then we began to have public meetings. We wanted an outlet for our crafts and at the same time we began to realize what was happening with poor people, how they couldn't get health insurance and a host of other injustices. Poor people lacked knowledge. Many couldn't read, so we started a literacy program." H.O.M.E. grew out of decisions which directly reflected the needs of the people.
"My Order didn't approve of my wanting to open a craft outlet, so, after four years of working with the poor, I was asked to leave the monastery. I always had a very deep attraction to spirituality and to our church. I can't leave my faith – it's a gift, though I understand, as I have gotten older, the separation between the system of the church as an institution and one's spirituality."
Lucy settles into an old rocker and continues. "H.O.M.E. is unique. It's more like a matriarchal society in the sense that we're not specialized. This is a woman's approach to society's problems. Does a mother ever separate what she is doing in her family? Poor or farm women, especially, do not understand the need for specialization. They are concerned with doing what needs to be done.
"How can you sleep at night when children are living on the street? How can you turn someone away who needs help? We can't.
"Even in the Yellow Pages they don't know how to list us. We do more shelter than anyone else in the state. We do more food bank. We are the only ones who have a thriving lower socioeconomiccommunity.We build houses. Many people can't understand us because they come from the overspecialized, patriarchal, educated society. We do whatever needs to be done for the human beings who are otherwise being neglected by our society.
"There is an assumption in our society that if you have a college education you know how to run things. At H.O.M.E. we don't have that assumption. We know how smart the poor are, even without a formal education. A self-educated person doesn't get the deserved credit in our society. I barely made it through high school and my office staff are mostly high school dropouts but they understand the problems, the spirit of our problems. They are still connected to their roots. They are not disconnected from their humanity. So I don't have to worry that they will turn away anyone who comes here for help."
As I leave the Sanctuary, I reflect on what makes H.O.M.E. work. It is just what makes government agencies fail. Homemakers Organized for More Employment does not have an administrative mind. They do not shuffle papers, nor do they have a reverence for committees, reports or in-depth studies of social and financial problems. They know what the problems are and how to solve them. In fact, problem solving isn't their problem, money is.
But H.O.M.E. is working in spite of the great lack of adequate finances, and staff feel they could solve our social problems if they just had the money that our Defense Department throws away. In an August, 1989 column, Jack Anderson quoted a 25-year Pentagon veteran, "…waste is a way of life in the Defense Department. It's not real money to them. It's play money, funny money."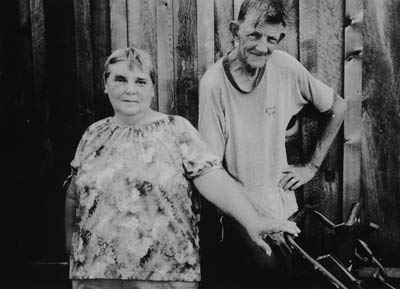 I am still pondering the lack of frills as I drive to the St. Francis Inn, the shelter that Sr. Barbara and Sr. Lucille manage. As we sit on the glassed-in porch, they talk about their concerns for H.O.M.E.
"We struggle with people who are not able to be hired in first-rate places. They're marginal people. So we're always paddling uphill. They're people ho one else will hire. Wonderful people, and it's a terrible thing when you have a hard time paying them. There are people who come here and learn a skill and go off, which is what we want. So we're always starting over. But we struggle terribly for overhead money, to pay the bills, to pay the salaries.
"We owe all these people so much money and then the foundations tell us we're not solvent. Well of course we're not. That's why we need them. We take in people who have no money. We struggle to take care of them, to feed them, to house them, and we want to. But right now H.O.M.E. is in very difficult financial straits. We cannot afford the $400 it costs to do a yearly audit. We desperately need a retired auditor, somebody to come and help us do our books, to offer to do the audit for us. We need that audit, that paper, so we can present evidence that we are a struggling corporation.
"Another huge problem is the Blue Cross/Blue Shield coverage. It is doubling. H.O.M.E. can hardly afford to pay for it now, but the people need coverage. They can't afford to pay for it. In a couple of years, every person will be paying many thousands yearly for medical coverage. H.O.M.E. people are lucky if they make four or five thousand a year. And the doctors and AMA are fighting a National Health Program. Something has got to be done."
A few days later, I visit Lucy in her office at H.O.M.E. The rough, unfinished wood of Mandala also dominates here. Again, there are no frills, no carpeting, no anything that would take money away from solving immediate problems. The phones are ringing off the wall. People are coming and going into the two offices and a kitchen, where staff and volunteers cook and eat. It is also a catchall for the continual stream of people bringing donations, mostly clothes.
As I see Lucy, between the constant flow of people, my first question to her is about government money. "We don't take government money," said Lucy, "because then we would have to fit into those guidelines that the government requires. And that means we would have to have someone be responsible for making sure those guidelines are kept. We don't want anyone to have to police anyone else. It would divide us. So we decided that government money would be very destructive for our community.
"We are working to be self-sufficient, not bureaucratic. If we become bureaucratic we won't be H.O.M.E., so we must depend on donations in order to survive. We operate on very little, but we are close to self-sufficiency. It is getting better. But we must get out and explain to others what we are about. We have not been assertive enough in our fundraising.
"We need people to put their money into our revolving loan fund or sponsor a house or land. We can build a house for $20,000 – $25,000. For those who would like to invest in our loan fund, we ask a 30-day notice for withdrawal. There are also those who have put us in their wills and, of course, those who make straight donations to us."
The people at H.O.M.E. are proud of their many accomplishments, but none as much as the 14 homes that they have already been able to build. The houses are 2000 square feet, designed for the single parent – one parent with a child on one side and a parent with three or four children on the other. This is not a band-aid answer. It is a permanent solution, a means of stabilizing the family. "We are committed," continued Lucy, "to helping feed, educate and provide decent low-income housing to those who would otherwise be unable to provide themselves with these basic necessities."
I recalled the words of a young mother whom I had visited in one of these houses a few days earlier. Connie had said, "My four kids and I stayed with my mother and her husband for two months in a two-bedroom trailer. I wouldn't know where to go if H.O.M.E. didn't exist. I was on different waiting lists for a place to live. They are so long – years. People stay in bad situations because they have no place to go." She also talked about how her children keep asking when they are going to have to move again, and when is the hot water and electricity going to run out. They haven't been able to get used to this permanency yet.
Being here and seeing how much is being done with hardly any money, my mind is constantly flashing back and forth between our society's waste of resources and those who are making a difference without any.
Within a few minutes, while I was in her office, Lucy answered three phone calls and gave advice and thanks in a calm, even voice. The resident potter came into the office and told her, "We need more clay for the pottery shop." Lucy good-naturedly replied, "Are you making bricks and building adobes with it? Ask the bookkeeper if we have the money."
Lucy then ran out of the office to catch a worker as he was going by. "Jack, Wally will have a load of cedar. He's coming in at two today." As Lucy starts back to her office, the social worker, Kathy, stops her.
I politely move in and out of the office attempting not to be in the way, while trying to take "meaningful" pictures, yet feeling like a frill, a decoration, compared to the real life problems being played out around me. Sensing my uneasiness, Lucy tells a visitor that Helen "photographs history." As I witness the reality of H.O.M.E., I get a sharp sense of how our society is becoming more and more callous toward the needs of the poor and those of low income; in many ways it has become a boring subject. Even though the poor population is increasing at an alarming rate, the will to release the resources that are needed to help them is decreasing. But it is not a boring subject to H.O.M.E. – in fact, in many ways our society's attitude has increased their job load. Many of the people here also talk about how they have to deal with outright impatience from those who resent them.
"Last night," Lucy said, "at 10:30, this woman called me on the telephone and woke me up. She said, 'Why does H.O.M.E. have a Puerto Rican for a social worker?' She went on and on and said she'd even called various other human rights agencies trying to get her fired. I let her finish and then I told her that her statements about Kathy are racial slurs and I wish the state of Maine had 3000 Kathies."
When Kathy was finished talking with Lucy, I asked her about her work. "I take people shopping, to the doctors. I work with battered women, I'm on 24hour call, seven days a week. I'm in charge of one shelter for the homeless elderly and I work with sexually abused children, the suicidal and alcoholic. We do a little bit of everything. I refer people to doctors or psychiatrists or dentists because they don't know where to go or what to do, and the poverty here is from lack of education. You never see poverty like you do in the state of Maine. It's the isolation – no public transportation. People depend on us to go to the doctors, to go shopping or to the laundromat – just the bare necessities," she said.
Kathy loves her work and her unconditional hugs and positive outlook are a powerful antidote for those whom no one else seems to care about. "I'm taking these flowers to the elderly. H.O.M.E. gets the flowers on consignment and sells them. I guess the growing season is over, because the man said to give away the ones we didn't sell. The elderly are so happy when I bring them flowers. I have one elderly lady who is very sick and I went and decorated her mailbox with flowers. People need to know someone cares."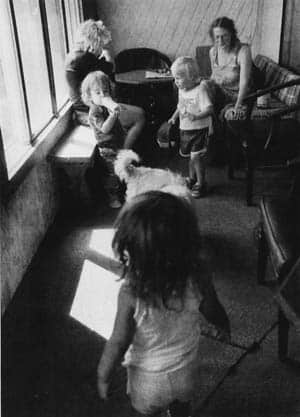 Wiry, passionate and full of energy, Kathy continues. "Housing is a terrible problem for the poor – rents are so expensive. If they buy a trailer, they don't have any land to put it on and renting land is beyond their income. It's hard all around, really.
"A young couple just bought an old trailer because their landlady sold the house and they were evicted. That happens all the time here. An old man allowed them to put the trailer on his land, so now they're trying to put a new floor in the trailer and make it more liveable."
I think of all the stories I have gathered from families who "love Kathy Tracy to death;" families who have contacted Kathy and either immediately or in a day or two been given a place to stay. As nine-year-old Danny told me, "When you're homeless you want to stay with your mother. You trust her, and Kathy helped us stay together."
At H.O.M.E. I learn about the wood crew which decided to reject the use of styrofoam cups. They talked about their concerns for the environment and the effect of these cups on the atmosphere. It was not an easy decision because they work in the mill, in the forest, in the cold, and there aren't any sinks in which to wash their cups. "We talk a lot about the meaning of what we're doing," they said, "like how we treat the forest. We want it to be there for our children. We just don't want to exploit these resources. So we try to do our part."
As I reflect on uniqueness, I think about H.O.M.E.'s Board of Directors. They range from rich to poor, female and male. Then I recall the write-up in the August 21,1989 issue of Time discussing Bush's advisors. All rich men.
H.O.M.E. is about balance, the ability to function on many levels at the same time, to cross over into many problem areas and to solve them quickly, a place where everyone is working for the same thing. There is no competition. It may sound Utopian in our society, but it is real and deeply impresses anyone who comes here.
As I leave H.O.M.E., I look back at the various buildings and at the people who are busy working on them, trying to improve the place. I read their newspaper which does a wonderful job of describing what they are doing, but nothing comes close to the feeling that I get when walking through this place, witnessing their miraculous efforts, listening to the people talk about how happy they are that H.O.M.E. has hired them. How they now have a skill. How desperate they were before they came here. How they are contributing toward making a better world. The sum of the place leaves me with a kind of awe. I feel that maybe humanity is not lost – maybe there is hope. Hope in a future without 30 million people living below the poverty line in America, while George Bush spends 30 million dollars on his presidential inauguration, giving promises, but doing nothing.
---
Helen M. Stummer is a photographer whose work is part of the historical tradition of Jacob Riis and Dorothea Lange who spent their lives documenting human misery and societal injustice. Stummer's work is in the permanent collections of the Brooklyn Museum, the Museum of the City of New York and the Newark Museum, among others. She has a masters degree in visual sociology.
For further information about the other programs at H.O.M.E., or the Homestead/Land Trust Act which is H.O.M.E.'s solution to homelessness, or to make a donation, please contact: Lucy Poulin, H.O.M.E., Inc., P.O. Box 10, Orland, ME 04472
Recently, H.O.M.E.'$ insurance company dropped them, charging thai a day care center and a lumber mill on the premises made H.O.M.E. "high risk", though they had made no claims in 20 years. Other recent misfortunes: Their historic chapel was demolished by a truck that crashed into it and, in a separate incident, all of the handmade quilts were stolen. Undaunted, H.O.M.E. plans to open a free preventive medical center. They would be grateful for contributions of over-the-counter medications, bandages, bandaids, vitamins, thermometers etc. They also need an auditor willing to donate services.