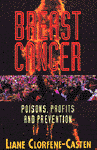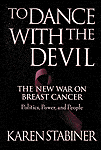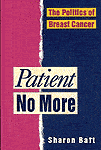 ---
Always a Woman: What Every Woman Should Know About Breast Surgery
Patient No More: The Politics of Breast Cancer
To Dance With the Devil: The New War on Breast Cancer
Living Downstream: An Ecologist Looks at Cancer and the Environment
Breast Cancer: Poisons, Profits and Prevention
The Breast Cancer Prevention Program
---
Breast-cancer books written by patients are not entirely new, nor is breast-cancer activism. I should know, because it's been 32 years since my own mother-in-law authored a slim volume called Always a Woman, which the "New York Times" described as "the first breast cancer book by a layman [sic] and the personal story of Sylvia Seaman's radical mastectomy." Eight years later, the first trade edition of Our Bodies, Ourselves was published. Its section on breast cancer concludes on a note that might seem humdrum to today's readers, but was nothing less than a call to revolution at the time: "Remember you have a choice about having your breast removed. You don't have to choose between immediate painful death and breastlessness when you first discover a lump."
It wasn't always so. In 1952 Terese "Ted" Lasser, the soigne, energetic — and imperious — matriarch of an affluent, well-connected family, unwittingly underwent the Halsted radical mastectomy at New York's Memorial Hospital. She'd been put to sleep for a "quick-section biopsy," with the assurance that her breast lump was almost certainly benign, and awoke to find herself "wrapped in bandages from midriff to neck — bound like a mummy in surgical gauze." She describes her response to this event: "Somewhere deep inside you a switch is thrown and your mind goes blank. You do not know what to think, you do not want to guess, you do not want to know." Upon awakening, Lasser could get no straight answers to her burning questions, such as how to reduce the pain and swelling in her arm; if and when to resume sexual relations with her husband; what to tell her children; and how, where and when to obtain a prosthesis. Lasser, who described her breast surgeon as "brilliant, but a very busy man," was not accustomed to having her questions left unanswered or her concerns dismissed, and took it upon herself to investigate and inform herself on the issues. After doing so, Lasser — an unlikely activist in her precancer days — was determined to teach others everything she had learned.
Reach to Recovery (R2R), officially founded in 1954, drew its name from the stretch exercises Lasser devised for new mastectomies to forestall the permanent crippling of their arms. She would tirelessly travel to hospital rooms, teaching other women these exercises which often proved highly effective. Lasser maintained that her visits were at the request of the patients' doctor or family, but according to Dr. Arthur Hollub of the American Cancer Society, Lasser was "often escorted out the front door of Memorial Hospital when she was found visiting patients at random and without the consent of the responsible surgeon." Lasser herself regained the full use of her affected arm, as did thousands of patients she or her lieutenants counseled. The R2R volunteer visitors provided each patient with a gift box that included a ball and string to help with the exercises, a temporary "falsie" to pin inside the hospital gown and letters of advice to their husbands and children. In 1969 Lasser merged forces with the American Cancer Society (ACS), but unfortunately, according to Sharon Batt, author of Patient No More, "in packaging Lasser's concept of visits from someone who's been there, the Cancer Society lost most of the goodness at the core." In fact, Batt continues, "certain attitudes of the ACS have recently made R2R an object of anger and ridicule among women with cancer." In a Canadian case that prompted widespread resignations from R2R, a volunteer visitor was dismissed because she refused to wear falsies. "We like our volunteers to look normal," her supervisor insisted.
But why had Lasser been subjected to such extreme treatment in the first place? The Halsted radical mastectomy is recalled in Batt's book as "the greatest standardized surgical error of the twentieth century." Introduced in the 1880s by William Halsted, a surgeon at Johns Hopkins (who, incidentally, lectured his students that mastering his complex procedure would set them apart from general surgeons and guarantee them money and prestige), the procedure was debilitating, often crippling. It was based on Halsted's conviction that breast cancer was a local disease that could be fully — if brutally — excised before it spread. Therefore if a biopsy was positive, the doctor, without waking the patient, automatically operated. The patient was left with loss of feeling on that side of her body, a sunken chest, restricted movement and some degree of "milk arm" — the painful, chronic condition in which lymph fluid can no longer circulate properly and thus accumulates. For years the Halsted radical mastectomy was unquestioned, and any failure to cure was attributed to a woman's tardiness in acting or a family physician's delay in referring the patient to a surgeon quickly enough.
Unfortunately, the "quick-section biopsy" was not only terrifying and demeaning to patients, it was medically unreliable as well. In the 1980's many false positives of previously frozen sections were discovered in a review at the United States National Cancer Institute (NCI). Upon this discovery, the National Women's Health Network tried, without success, to convince NCI of its absolute obligation to notify the patients, who were proceeding through life believing they'd survived breast cancer when in fact they'd never had it in the first place. It seems puzzling that a government institution would use taxpayer money to do research and then fail to inform the directly affected taxpayers of the results, but this may help illustrate why most feminists now support breast-cancer-patient activism.
In August of 1996, I attended a women's health conference in Ottawa, the highlight of which was my unexpected meeting with Batt, whose Patient No More is the book against which I predict all subsequent works on the new politics of breast cancer will one day be measured. It is reliable, thorough, honorable, brilliant, balanced, darkly humorous and compelling. So then, how come a savvy feminist like you hasn't heard of it?
The answer is, Patient No More, published in 1994 by a small Canadian press (Gynergy Books, PO Box 2023, Charlottetown, PEI Canada CIA 7n7), has never been well distributed here in the States. The resulting absence from our libraries is a great loss, for in the introduction, Batt details the pivotal role that advocates can and do play: "Advocating for ourselves means seeing our own interest clearly — no easy task when others have spoken for so long on our behalf. Initially the public, and many professionals, assumed advocates would simply lobby to increase funding for breast-cancer research. Instead, women with breast cancer began by asking why accurate information about the disease was so difficult to come by, and moved on to examine how decisions are made and money is spent. Many now question the premises of past policies, such as the emphasis on treatment rather than prevention, and the strictly biomedical model of cancer."
Batt is one of these questioning women. Now the president of Breast Cancer Action Montreal and a former editor of the consumer-education magazine "Protect Yourself", Batt was in peak physical condition (training for a triathlon, in fact) when, at age 43, she discovered a breast tumor while soaping herself in the shower. Not long after, while heading into her third chemotherapy session, and having read both Audre Lorde's Cancer Journals and Rose Kushner's Breast Cancer: A Personal History and Investigative Report, Batt came up with a proposal for a radio documentary on cancer (which was later produced and awarded prizes).
In her book, Batt takes on the many major issues: Do the benefits of mammography always outweigh the risks? Has the effectiveness of lumpectomy been discredited by faked or flawed research? Are advances in chemo-therapy saving more lives? Is tamoxifen worth the risks and side effects? How valuable will identifying cancer genes likely prove to be? Which so-called preventive measures have been proven effective and which remain theoretical? Why is the cancer establishment generally unsupportive of the research on environmental and pharmaceutical carcinogens that many advocates deem to be urgent? Batt, a superb medical reporter, supports conventional medical recommendations — when the suggested treatments have been substantiated by sound research results. She also advocates political action and truth telling, and laments that simple lifestyle changes, such as joining a support group (which has been shown in studies by Stanford psychiatrist Dr. David Spiegel to significantly extend life expectancy), are often overlooked by establishment physicians.
Batt competently navigates a course through many of the controversies about cancer, tackling issues related to early detection, genetics and heredity, treatments and alternative treatments, and prevention. She explores why the public's understanding of breast cancer diverges radically from the reality experienced by women who have the disease and demonstrates how information is systematically distorted by cancer charities, cancer industries and much of the press. Batt also addresses emerging cancer activism, charting its goals, strategies, disappointments and occasional successes.
In Batt's concluding section, she describes a cancer conference at which she encountered Dr. Susan Love clad in jeans and sneakers, sitting on the floor consulting with activist patients. Shortly thereafter, she spied Love again, this time presenting at a panel: "For the 'Patients' Role in Research' panel, Sue Love has done a Clark Kent transformation, shedding jeans and sneakers for a skirt and boldly checked jacket. She is now 'Dr. Susan Love, M.D., Director of the UCLA Breast Center.' I watch, fascinated, as she walks the tightrope of surgeon-activist before this mostly medical audience." During that panel, Love posed the question "Is breast cancer a political issue?" And then she continued on to answer, "Yes. Women want prevention. They are worried for their daughters. They don't want chemo. . . . The cure for breast cancer is political action."
Dr. Susan Love's Breast Book (written with Karen Lindsay) helped establish Love as the most esteemed and trusted breast surgeon in North America. As an activist, she has also played a key role in getting the U.S. federal budget for breast-cancer research increased from $90 million in 1991 to the $550 million it is today. For these reasons, Love's colleagues in the old-guard cancer establishment tend to go easy on her, even when they disagree with her.
Love goes out of her way to make herself accessible. When approached by Karen Stabiner about writing the book To Dance With The Devil: The New War on Breast Cancer, Love immediately agreed. Stabiner writes, "She never asked for any editorial input or control; she had her work, I had mine, and for a while we did them in the same place."
In addition to spending nine months shadowing Love on a daily basis (even into the operating room), Stabiner also followed seven of Love's patients, as well as a number of other specialists at the UCLA Breast Center. She intimately captures Love's devotion to patients, her dedication to her cause and her difficulties with some colleagues. Stabiner also interviewed scores of government health officials, researchers, political activists and lobbyists, covering many of the same issues and controversies as Batt but with a perspective that is somewhat more sympathetic to the establishment: most of Stabiner's doctors come off as quite likable; many of Batt's seem ridiculous. As a whole, To Dance With the Devil is a fine complement to Patient No More.
In the end, when Love tells her patients she is leaving the breast center, many show up in the waiting room without an appointment, determined to see her one last time. The daughter of one of the patients Stabiner followed during her research appears in Love's office, anxiously inquiring about what her mother should do if someday she should again need surgery. "She won't," replied Love, "but if she does, just drop by my house. I'll set up in the garage."
In February 1997 Love (again with Lindsay) published Dr. Susan Love's Hormone Book. The book has drawn intense fire from the menopause industry, along with its defenders and apologists, simply for maintaining that — as noted in the Random House press release — "the benefits of hormones have been overstated, and their risks have been either underresearched or underreported. While many women can be helped by using hormones, they should make that decision only after being properly informed of the limitations of hormone therapy and its possible side effects."
So great is the vested business interests' power over the media that even some publications with fine reputations for objectivity and fact checking seem to have joined in the "open season" on Love. For example, prominent among Love's critics is hormone enthusiast Trudy Bush, who was misleadingly identified as merely "an epidemiologist at the University of Maryland" in a June 9 "New Yorker" article entitled "The Estrogen Question: How Wrong Is Dr. Susan Love?" In fact, according to the Journal of the American Medical Association, Bush has or has had financial support from the following pharmaceutical companies: Parke-Davis, Forest Laboratories, Organon, Eli Lilly, Ortho, Wyeth-Ayerst, Rhone-Poulenc Rorer, Upjohn. Love has so much credibility that even her moderately conservative position could dampen sales in the menopause market.
It's evident that cancer books written by survivors often provide the most punch, poetry and power. Sandra Steingraber's Living Downstream: An Ecologist Looks at Cancer and the Environment is an absorbing, heartbreaking book, which meets high standards in both science and literature. A human-rights advocate, poet, naturalist, scholar (she has a Ph.D. in biology from the University of Michigan) and survivor of bladder cancer, Steingraber shows in this moving book that she is a sublime inheritor of Rachel Carson's mantle. Interestingly enough, for decades it was a well-kept secret that Rachel Carson herself was diagnosed with breast cancer in 1960, in the thick of researching and writing Silent Spring. Carson died in 1964 at the age of 56, having widely concealed her illness, fearing that it could make her work seem less credible. Even with her considerable achievements and acumen, Steingraber draws the line at any in-depth consideration of pharmaceutical and veterinary estrogens. She reports that elevated breast-cancer rates on Long Island may be linked to proximity to chemical plants, and also postulates that some chemicals, such as DDT, which may mimic estrogens in the body, appear to be carcinogenic for that very reason.
Unfortunately, she doesn't take her exploration into this important arena any further. I find this to be an uncomfortable, and ongoing, omission. In 1978 I served on the U.S. Surgeon General's Task Force on DES, which discovered that women who were prescribed obstetric DES a decade or two earlier were already evidencing breast-cancer rates of up to 50 percent above comparison groups. Despite the fact that this was reported close to 20 years ago, and despite the fact that Long Island (birthplace of Judith Helfand, who made the acclaimed DES documentary A Healthy Baby Girl was a hot spot for DES use in pregnant women, the linkage is largely ignored by environmental activists and writers, including Steingraber.
Liane Clorfene-Casten's Breast Cancer: Poisons, Profits and Prevention provides a rousing, wide-ranging display of good old-fashioned muckraking. It also provides a practical introduction and overview of many of the most contested cancer issues. Clorfene-Casten already proved her mettle when she won the prestigious Project Censored Award for her memorable expose — published in "The Nation" — of the Environmental Protection Agency. Describing herself as "an investigative journalist and community activist," Clorfene-Casten in her new book takes readers on a pharmaceutical and environmental exploration of sorts, investigating chlorinated pesticides, dioxin and DDT, PVCs, radioactive wastes and other environmental issues. She also covers such medical/pharmaceutical controversies as tamoxifen, mammograms and silicone implants. Along the way, Clorfene-Casten documents the improper relations conducted between government regulators and those they are charged to constrain. They are considerable, and worrisome.
Despite the "message of hope" campaigns that the American Cancer Society and its predecessor organizations have been systematically issuing since 1913, we are losing the war on breast cancer, as documented by Dr. Samuel Epstein, David Steinman and Suzanne LeVert. In their forthcoming book, The Breast Cancer Prevention Program, the authors inform us:
• Breast cancer is the leading cause of death for women between the ages of 35 and 54.

• Breast cancer is the second-largest cause of cancer deaths (after lung cancer) among women of all ages.

• In 1971, when President Nixon declared a war on cancer, a woman's lifetime risk of contracting breast cancer was 1 in 14. Now it is 1 in 8.

• American women are now twice as likely to develop breast cancer as they were a century ago, and most of this increase in incidence occurred in just the last 30 years.

• Since 1960, more than 960,000 American women — double the number of Americans (male and female) who died in World Wars I and II, and the Korean, Vietnam and Persian Gulf Wars put together — have died from breast cancer.
Following her mastectomy in the mid-1950s, Sylvia Seaman continued to lead a healthy activist life until the age of 94. A suffragette who'd marched in 1920 to celebrate votes for women, she was one of five feminist veterans who led the 1970 Fiftieth Anniversary March down Fifth Avenue. She again led the Sixtieth Anniversary March, and succumbed to cancer just a few months short of giving the speech she'd prepared for the Seventy-fifth Anniversary. While taking full advantage of medical treatment, she also took high dosages of vitamins C and E, following such nutritionists as Carlton Fredericks. She walked four to six miles each day.
It's a pity, if not a crime, that we have no idea of the extent to which Sylvia's diet and daily exercise was — or was not — what held her cancer at bay for 40 years.
It's been a quarter of a century since Our Bodies, Ourselves informed us that we "have a choice" about how we handle breast cancer. Batt, Stabiner, Steingraber and Clorfene-Casten, as well as Epstein, Steinman and LeVert, each extend that advice by exploring what those choices are, and the complexities and controversies that they entail. Each of these writers embody the best of author activism, by making important, even lifesaving, information accessible to individuals and by simultaneously attempting to influence and alter the way our society deals with breast cancer.
Book list
Always a Woman: What Every Woman Should Know About Breast Surgery, by Sylvia S. Seaman. (Argonaut Books, 1965)
Reach to Recovery, by Terese Lasser and William Kendall Clarke (Simon & Schuster, 1972)
Patient No More: The Politics of Breast Cancer, by Sharon Batt (Gynergy Books, 1994)
To Dance With the Devil: The New War on Breast Cancer, by Karen Stabiner (Delacorte Press, 1997)
Living Downstream: An Ecologist Looks at Cancer and the Environment, by Sandra Steingraber (Addison Wesley, 1997)
Breast Cancer: Poison, Profits and Prevention, by Liane Clorfene-Casten (Common Courage Press, 1996); With a preview of the forthcoming The Breast Cancer Prevention Program, by Samuel Epstein, M.D., and David Steinman with Suzanne LeVert, (Macmillan Books, Fall 1997)
---
PATRICIA A. MURPHY writes frequently on health and environmental issues.